Bone Graft
A dental bone graft is a treatment performed to improve jawbone density in a part of the jaw where the bone volume has been lost or needs extra support.
A dental bone graft is sometimes required if additional procedures, such as dental implants, are essential or if bone loss impacts the health of nearby gums and teeth.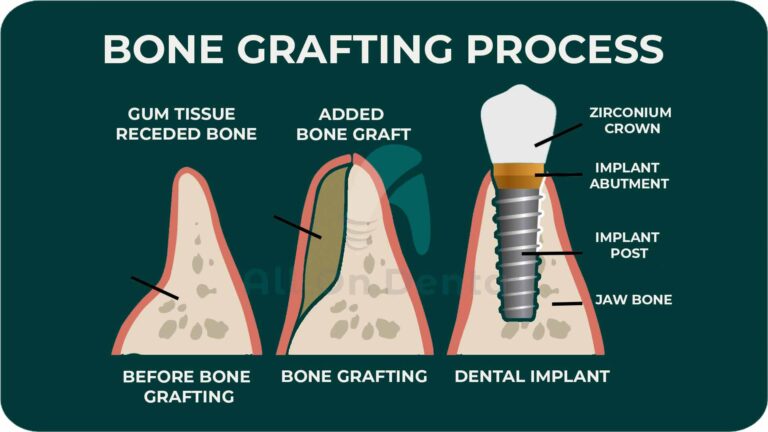 Bone Graft In A Nutshell
Bone Graft is For
• Patients without sufficient jawbone density to support a dental implant.
• Patients who lost jawbone density due to tooth loss or gum disease.
• Patients whose face looks have been impacted by bone loss.
Bone Graft Treatment Duration
• The treatment takes about two hours.
Bone Graft Recovery Period
• Most patients recover about three to six months after installing the new implant.
Bone Graft Success Rate
• A bone graft with a dental implant that lasts 10 to 15 years is mainly regarded as a success.
Possible Risks & Side Effects
• Infection
• Swelling
• Ongoing pain
• Bleeding
• Nerve damage
• Rejection of the bone graft
How Much Does Bone Graft Cost In Turkey?
Prices of a bone graft have steadied in the last few years. Regardless, general costs can still be conditional on the doctor you choose and the country you have the treatment. We've summarised starting costs for one CC of bone graft in several locations. Remember that these are not set or assured and may vary based on many other factors.
| Country | Price In US $ |
| --- | --- |
| All On Dental | $150 |
| Croatia | $300 |
| Hungary | $175 |
| Poland | $250 |
| Czech Republic | $230 |
| Germany | $450 |
| Mexico | $190 |
| United Kingdom | $500 |
What Is the Bone Graft Procedure?
There are several methods of dental bone grafting that can be performed. Yet, the basic process is the same: A dentist or oral surgeon creates an incision in the jaw and grafts (adds) additional bone material to the jaw.
A dental bone graft is usually done if an individual has lost one or more teeth or has gum disease. Both of these issues can drive bone loss in the jaw.
Dental Bone Grafts Procedures
• This includes taking bone from your own body, such as your hip or jaw.
• This graft uses bone from a different person, usually a cadaver.
• This includes taking bone from other species, such as cows, pigs, or coral.
• This requires synthetic materials, such as calcium phosphate or sodium phosphosilicate (Bioglass).
Bone Graft: Step by Step Guide
While the Bone Graft procedure can differ depending on individual cases, some standard steps are applied.
Consultation
Before treatment begins, your dentist will take detailed X-rays or CT scans of your jaw. This will supply an anatomy map of your jaw and the sinus membrane. This also allows the dentist to take accurate measures in preparation for surgery.
Anesthesia & Preparation
You'll get local anaesthesia before the operation, and the dental technician will clean the area.
The Procedure
Your dentist will make an incision in the gum tissues to disconnect them from the jawbone where the bone graft is placed. The dentist will put the bone graft material between two sites of bone that need to grow together. The graft materials are secured with a dissolvable adhesive membrane or an implant.
Stitching
The dentist can close the area with stitches. Then follows a three to six months healing period. The grafted material is given time to integrate with the jawbone.
Different Types Of Bone Graft
There are three primary types of dental bone graft methods. Each one is good for different cases affecting the jaw.
Block bone graft
Bone is usually taken from the back of the jawbone, close to your wisdom teeth. This is generally performed in cases with high jawbone loss toward the front of the jaw.
Sinus lift
A bone graft is done to reform upper jaw stability when bone density loss occurs around the upper molars, letting the sinuses move down. At the same time, the sinuses are also impacted back to their correct position.
Socket graft
The bone graft is performed while a tooth is removed to avoid a bone density loss that might otherwise arise once the tooth is removed.
What Should I Expect From Bone Graft?
You'll be offered a local anaesthetic before the treatment, so you don't feel pain while you're in the dentist's chair. Regardless, there may be pain, swelling, and discomfort during the first five days later. Your dentist will suggest placing the dental implants simultaneously as the bone graft in most cases. Or You'll likely need to wait a few months after the bone grafts for your implants.
Slight bleeding from your mouth and nose after a bone graft is normal. Your dentist will provide precise instructions for your general wellbeing and dental implants. Please follow them.
Why Choose All On Dental For Bone Graft?
Our mission is to make dental care an accessible reality for everyone who needs it conveniently, ably, and comfortably. By performing all stages of dentistry in-house, we can dedicate all our expertise to you and your case. In this way, we can provide patients with dental implants in Istanbul that are beautiful, comfy to wear, and long-lasting enough to last a lifetime.
We put the patient first; we are on a mission to revolutionize healthcare. The urge to get high-quality, affordable dental care shouldn't be defined by your location, which is why All On Dental exists.
✔100% Free Online Consultation: We're here to help – whether you book your dental treatment with us. Our free 100% non-binding assessment is an easy, convenient way to determine which dental treatment is the best for you. Find out in just one email or call if it's right for you.
✔100% Treatment Guarantee Policy: Our patients are at the centre of everything we do. We value patient satisfaction and recognize that a healthy smile is vital to feeling good about yourself. So we're proud to offer a 100% satisfaction guarantee – if your treatment isn't what We promised you or you experience any problems, it won't cost you a penny to redo the treatment again in our clinic. If we can help you through any issues, we'll also pay for a second treatment, accommodation, and transportation.
✔All-Inclusive Packages: First travel to Turkey? We offer all-inclusive packages covering everything, including hotel accommodation, airport pick-up, and transfers to and from our clinic. Please book your flights and leave the rest to our patient service team. They will stay with you throughout your treatment to ensure everything goes as planned.