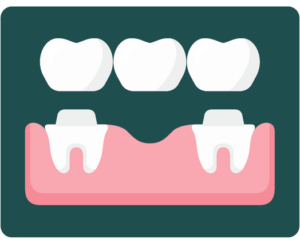 Dental Bridge
A dental bridge is a fixed (permanent) rehabilitation that restores missing teeth. Bridges mimic the look, shape, and function of natural teeth. Crowns are created to fill the area and anchored using healthy teeth on both sides of the gap.
They are also custom-made for every patient.
In more severe cases, a patient may need multiple dental bridges. This is called "full mouth rehabilitation."
Dental Bridge In A Nutshell
Dental Bridge Is For
•  Patients are planning to restore the look and function of their teeth.
•  Patients with strong, healthy teeth on both sides of the tooth gap.
Dental Bridge Treatment In Turkey
•  Minimum stay: 4 – 6 days
•  Number of trips: 1
Dental Bridge Treatment Duration
•  Multiple sessions, each session lasts for an average of one hour.
•  The entire treatment takes around six days in All On Dental clinics.
Recovery Period
• Return to normal activities 2-3 days after the crown is placed.
• Any slight pain caused by the placement of the Bridge should diminish in a few days.
Success Rate
•  Dental Bridges should serve for 7-15 years with proper care.
• 94% have an eight-year success rate.
• 75% have an 18-year success rate.
Possible Risks & Side Effects
•  Infection and Inflammation.
•  Increased tooth sensitivity to hot and cold.
•  Allergic reaction to the bridge's materials.
•  Increased risk of decay and pulp damage in the abutment teeth.
Alternative Treatments
• Dental implants
How Much Does Dental Bridge Cost In Turkey?
Dental bridge prices are more affordable than before. Access to high-quality dentistry in Turkey makes it easier for patients to get dental bridges in All On Dental at affordable prices. It's necessary to consider all options before booking a treatment in Turkey. You can discuss this with your Case Manager in All On Dental. We will be pleased to explain several treatment options in detail to you.

All On Dental Dental Bridge Price
Knowing how much you should pay to have a dental bridge is essential. Below, we've done the math for you for the starting prices for dental bridges at All On Dental clinic and abroad. The prices are not fixed nor guaranteed and may vary based on the individual case.
Bridge Type
Brand Origin
Price In US $

Zirconium Bridge

Per Unit

Ivoclar Vivadent

Switzerland

$145

Emax Empress Bridge

Per Unit

Ivoclar Vivadent

Switzerland

$165
| Country | Price In US $ |
| --- | --- |
| Turkey | $230 |
| Hungary | $300 |
| Croatia | $305 |
| Germany | $550 |
| United Kingdom | $750 |
What Does a Dental Bridge Look Like?
A dental bridge is an artificial tooth called a pontic that anchors it to the neighbouring teeth. The pontic is designed to fit your mouth. Your dentist must recontour the anchoring teeth to maintain the Dental Bridge in place effectively.
Most dental bridges are made of porcelain. They are connected to a metal base for support.
Different bridges are made of all-ceramic or zirconium, a combination of porcelain and other similar materials.
Before fitting, your dentist will remove some structure from the abutment teeth. These are the supportive teeth on each side of the Bridge. The tooth structure removal required is the same for both the front and back teeth.
Dental Bridge: Step by Step Guide
Dental Bridge placement is split into multiple appointments:
Consultation
During your initial consultation, your dentist will evaluate your suitability for dental bridge treatment. Good nominees for dental bridges are patients with healthy teeth on both sides of the gap you wish to fill. Suppose your dentist sees any underlying issues with the surrounding teeth that may evolve in the coming years. In that case, they may suggest a dental implant instead, as this form of dental procedure is not reliant on the presence of solid abutment teeth. Your dentist should run through the advantages of each treatment nevertheless and may need to take an X-ray to get a proper sense of which one is ideal for you.
Anesthesia & Tooth preparation
A local anaesthetic is applied during the first appointment to ensure comfort and relieve pain during the procedure.
Your dentist will design and prepare the abutment teeth. All abutment teeth (supporting teeth) are shaped like a dental crown. This means all enamel and any extra tooth structure are removed to make a clear route to the other tooth.
After the teeth are shaped, impressions are made and sent to our dental laboratory. This is where your custom dental bridge is created. While the permanent bridge is being made, your dentist will put a temporary bridge over the recently shaped teeth and gap.
Permanent bridge
Once the pontic is ready, you'll come for the final appointment. Your dentist will extract the temporary bridge and clean the area underneath. A local anaesthetic will be applied before taking off the temporary bridge.
Your dentist will take x-rays of the dental bridge to ensure it fits correctly. Then the dental bridge and abutment teeth are bonded using special dental cement.
4 Types of Dental Bridges
There are four primary types of dental bridges known.
Traditional Bridges
Traditional dental bridges are the most common choice of a dental bridges. They consist of ceramic, zirconium, porcelain fused to metal, or all-metal-like gold.
These bridges have an artificial tooth called a pontic. A dental crown keeps it in place on both sides.
Your dentist will prepare and shape the two abutment teeth next to the fake tooth during the process. This ensures that the two dental crowns fit correctly. Traditional bridges are durable, strong, and long-lasting with proper care. They typically only restore teeth (premolars and molars).
Cantilever Bridges
Cantilever bridges are comparable to traditional bridges, except they are anchored to one abutment tooth from one side. To keep a cantilever bridge, you must have one natural healthy tooth next to the missing tooth.
This kind of dental bridge is commonly used to fix front teeth. Cantilever bridges aren't firm enough to replace molars (back teeth).
Maryland Bridges
The Maryland bridge is the right option for those who do not wish to deal with the long-term effects of reshaping surrounding teeth. This involves using a pontic kept in place by a metal framework. Maryland dental bridges are porcelain and nearly the same color as your natural teeth. These bridges hold "wings" that glue to the neighboring teeth, which keep them stable. The wings can be porcelain instead of metal.
Less tooth preparation is essential for Maryland bridges because they bind to the rear side of your front teeth next to the missing tooth. Other kinds of dental bridges need additional tooth structure removal before fitting.
Maryland dental bridges are used to repair front teeth. They are not recommended to restore missing molars or canines. Canine teeth are critical to your bite, and Maryland bridges can move or slack easily.
Implant-Supported Bridges
Rather than a metal framework or dental crowns, implant-supported bridges are entirely backed by dental implants. This kind of dental bridge restores premolars and molars teeth.
Implant dental bridges are perfect for patients with at least three missing molars in a row.
When is a Dental Bridge Necessary?
Nearly 70 per cent of grown-ups (35-44) have lost at least one tooth to gum disease, an injury, decay, or a failed root canal.
Most dentists suggest dental bridges over implants if you already have current dental crowns on the abutment teeth. They may also advise a dental bridge if you can't get implants for medical bases.
You might need a dental bridge if you lost a tooth or teeth to:
•  Decay
•  Extraction
•  Trauma or injury
•  Gum disease
•  Medications
•  Old age
Dental Bridge: Turkey or at Home?
The number of patients travelling to Turkey for dental bridges has made it simpler to seek treatment options outside your home country.
The benefits of receiving a dental bridge in Turkey include cost, experience, and vacation. Our dentists in All On Dental have years of experience in all aspects of the field. They have worked for many years under the guidance of an expert, studying what is required to create exceptional customer service and high-quality dental bridges for abroad patients.
All On Dental offers All-inclusive dental bridge treatment for an overseas holiday without the need to compromise on quality and safety.
Suppose you're looking to book a trip after receiving dental treatment. In that case, All On Dental can arrange accommodation and direct airport transfer. We understand there's no room for surprises when travelling for treatment, so we care about the details. We'll ensure your trip is smooth and pleasant from consultation to recovery.
Our Patient Managers help select the best treatment options for you, from customized airport transfers to accommodation arrangements and clinic pickups.
What Should I Expect From Dental Bridge?
Losing a tooth or multiple teeth can substantially influence individuals, primarily when located in a prominent area. Dental bridges can be a fantastic treatment to recharge your confidence, eating, and speaking roles. However, each one comes with its needs and obligations.
A successful dental bridge treatment will offer several advantages, including restoring your smile and the ability to chew and speak as you did before with a confident smile.
Why Choose All On Dental For Dental Bridges?
Our mission is to make dental care an accessible reality for everyone who needs it conveniently, ably, and comfortably. By performing all stages of dentistry in-house, we can dedicate all our expertise to you and your case. In this way, we can provide patients with dental bridges in Istanbul that are beautiful, comfy to wear, and long-lasting enough to last a lifetime.
We put the patient first; we are on a mission to revolutionize healthcare. The urge to get high-quality, affordable dental care shouldn't be defined by your location, which is why All On Dental exists.
✔100% Free Online Consultation: We're here to help – whether you book your dental treatment with us. Our free 100% non-binding assessment is an easy, convenient way to determine which dental treatment is the best for you. Find out in just one email or call if it's right for you.
✔100% Treatment Guarantee Policy: Our patients are at the centre of everything we do. We value patient satisfaction and recognize that a healthy smile is vital to feeling good about yourself. So we're proud to offer a 100% satisfaction guarantee – if your treatment isn't what We promised you or you experience any problems, it won't cost you a penny to redo the treatment again in our clinic. If we can help you through any issues, we'll also pay for a second treatment, accommodation, and transportation.
✔All-Inclusive Packages: First travel to Turkey? We offer all-inclusive packages covering everything, including hotel accommodation, airport pick-up, and transfers to and from our clinic. Please book your flights and leave the rest to our patient service team. They will stay with you throughout your treatment to ensure everything goes as planned.